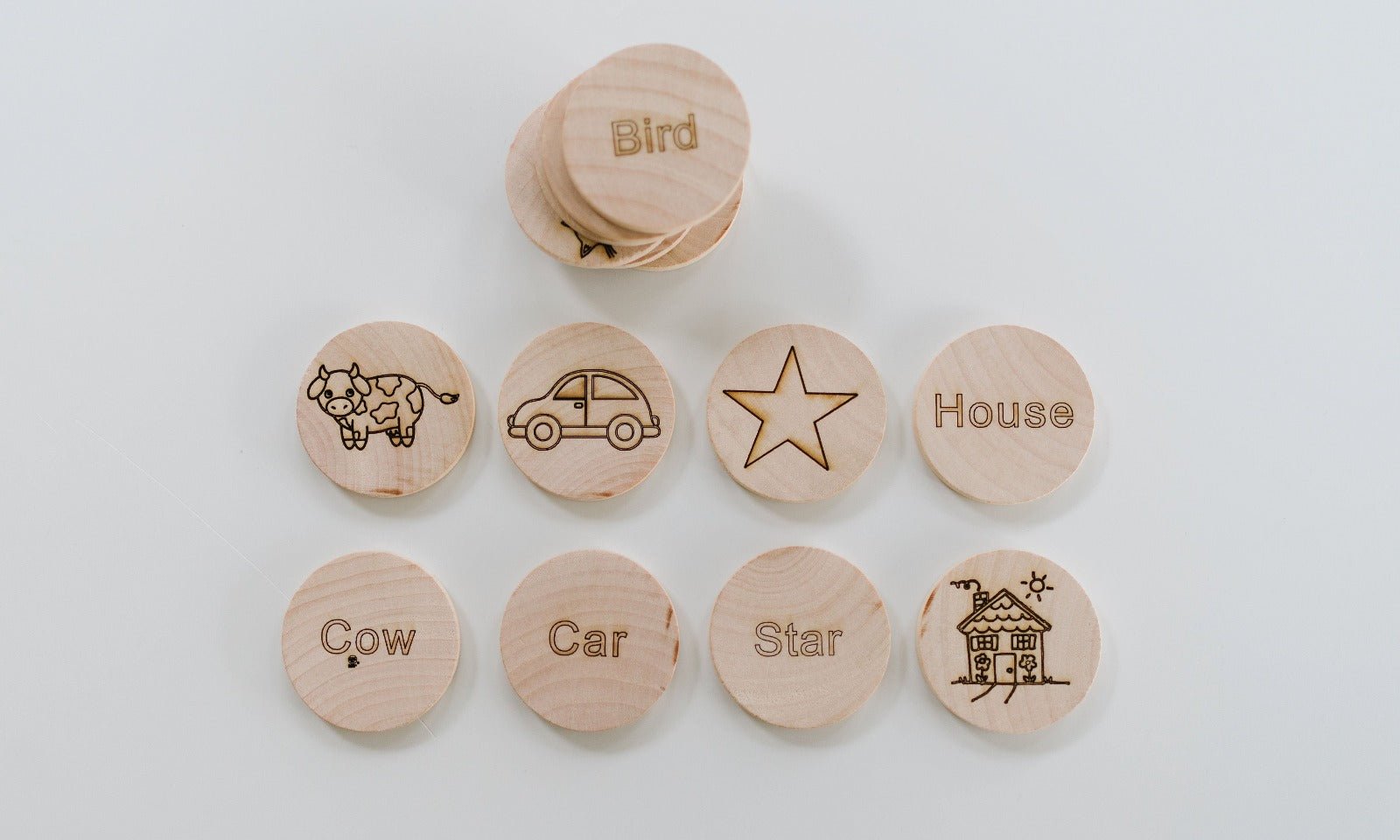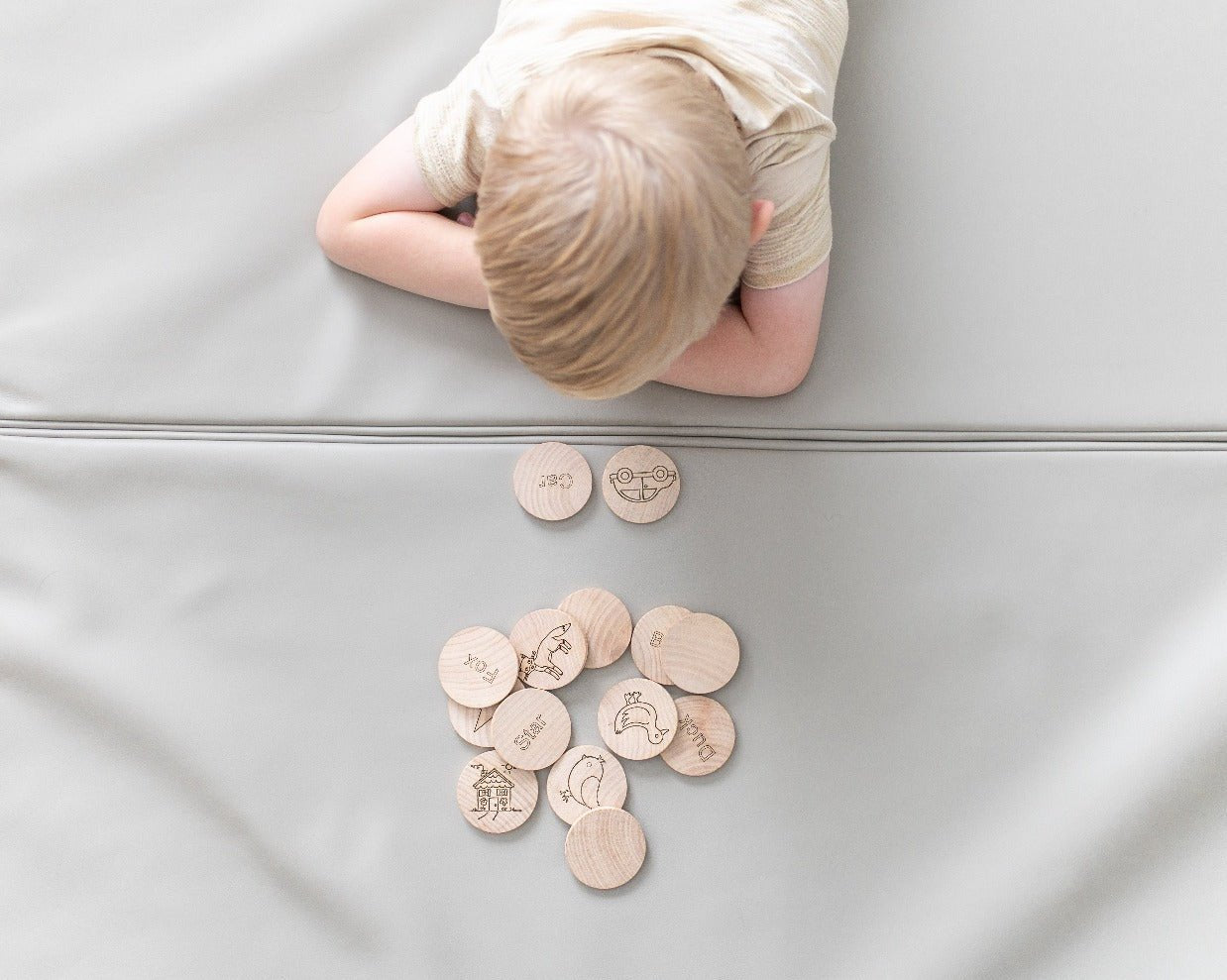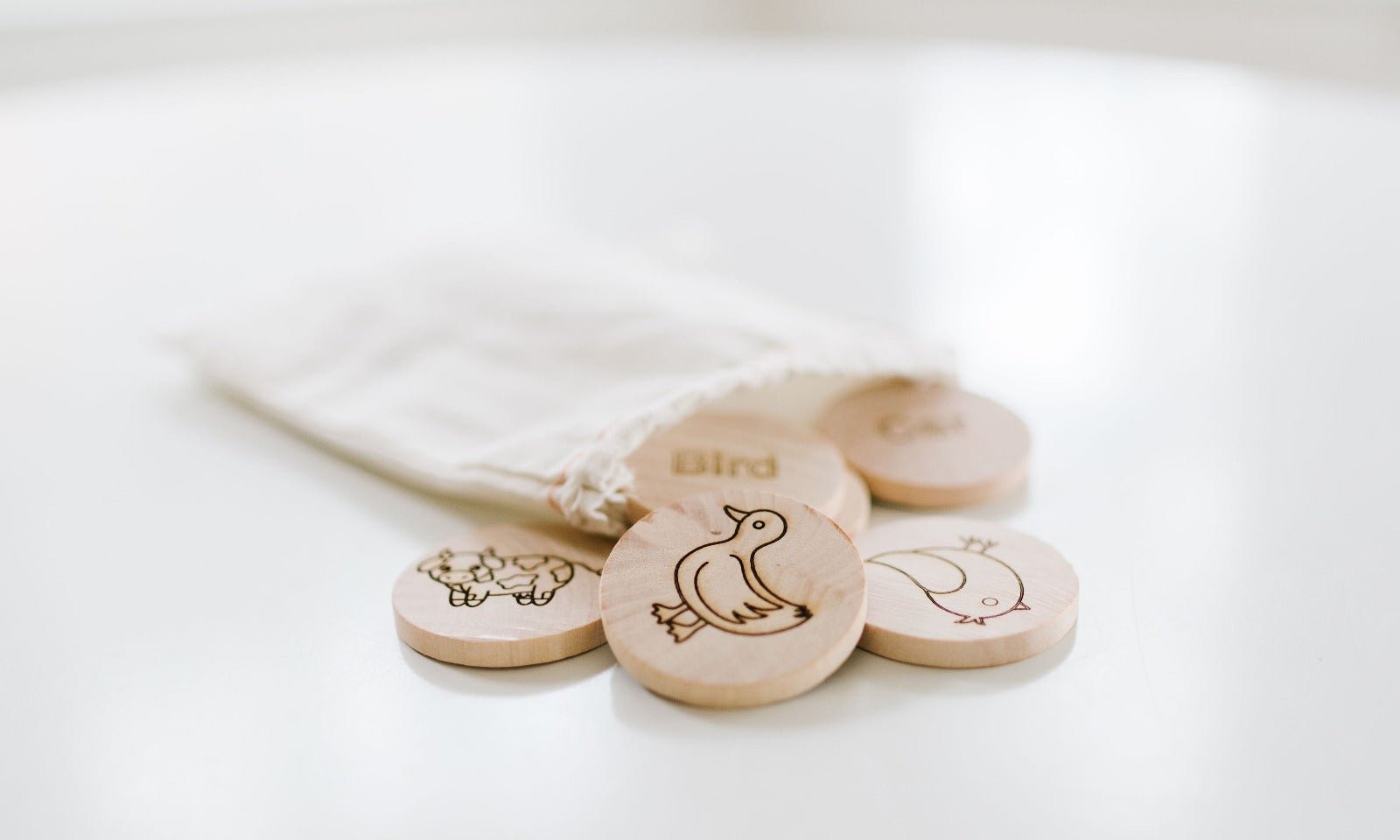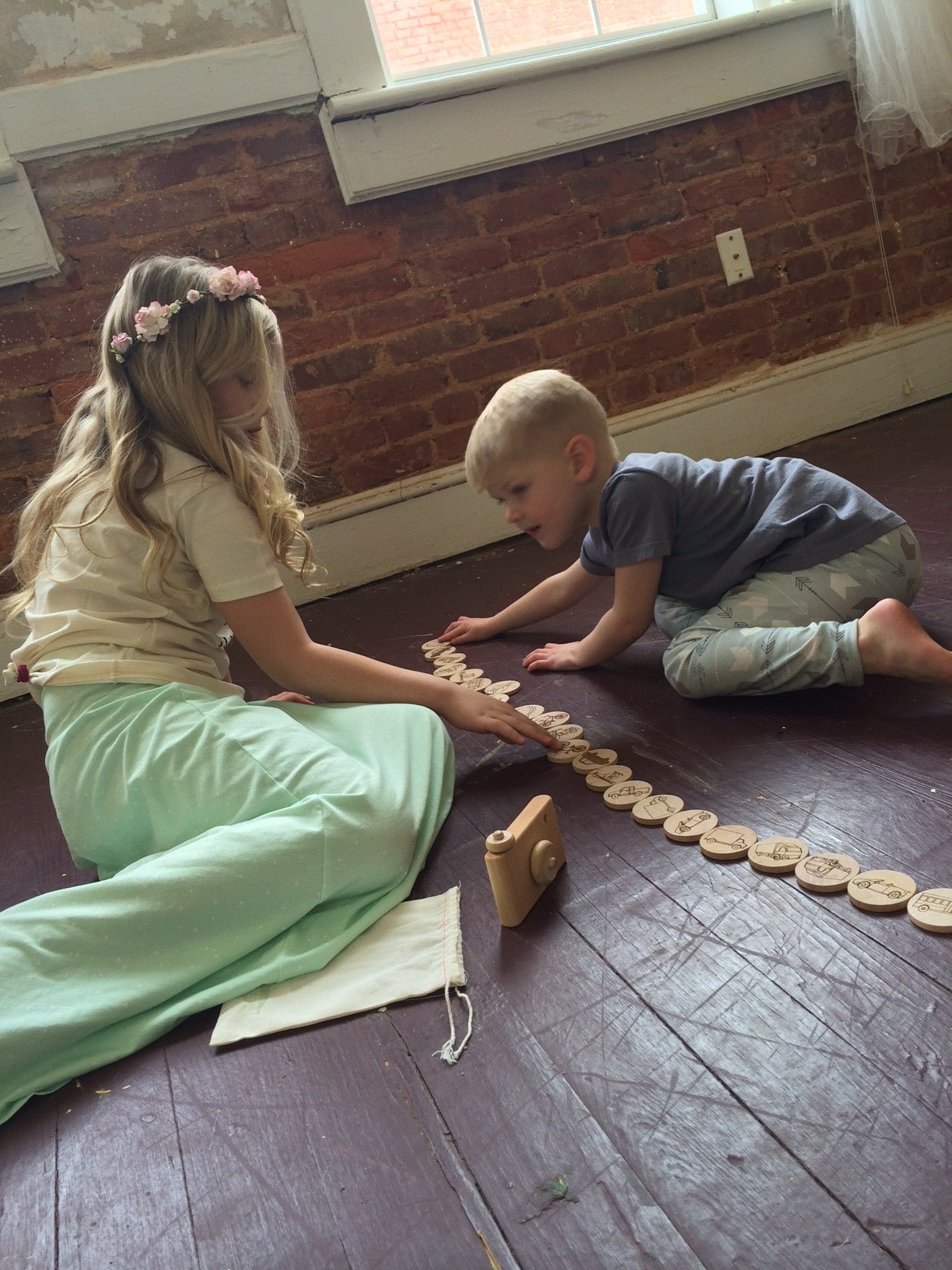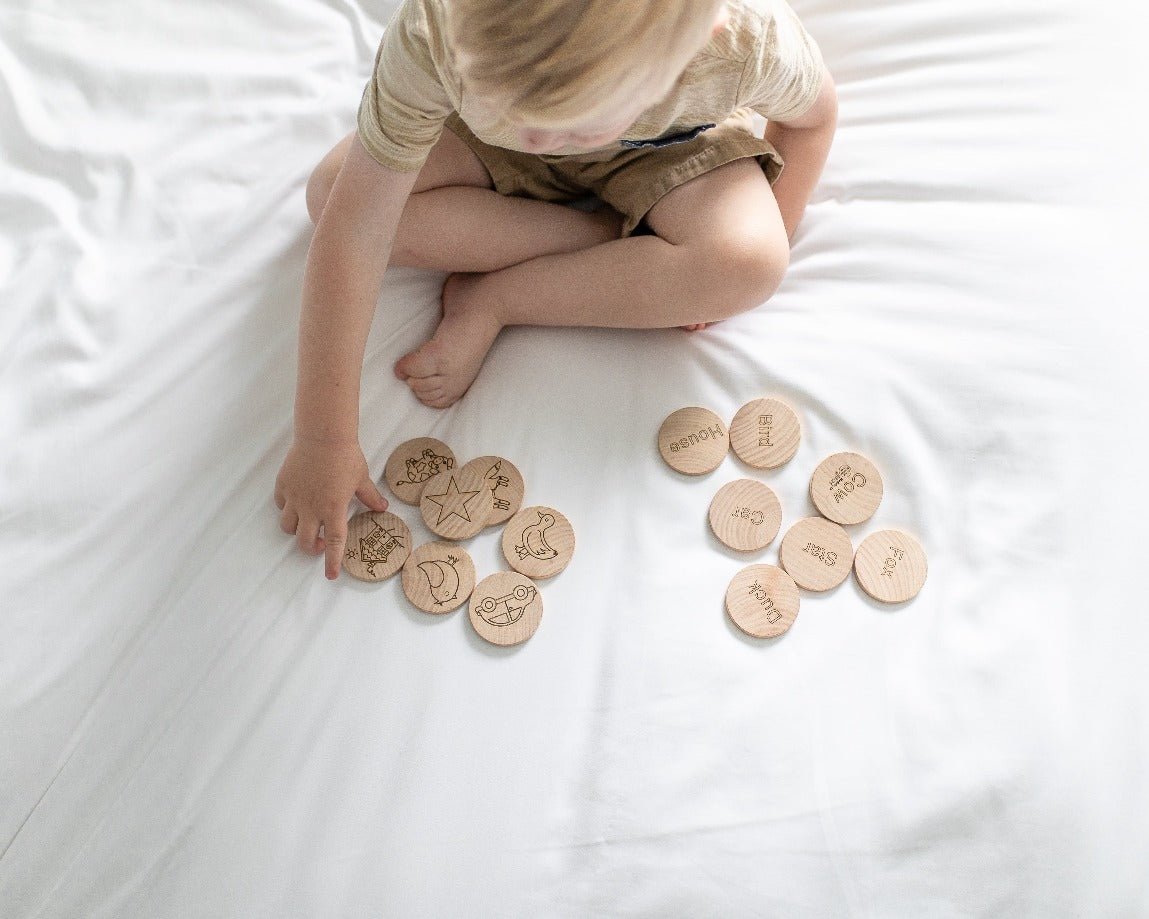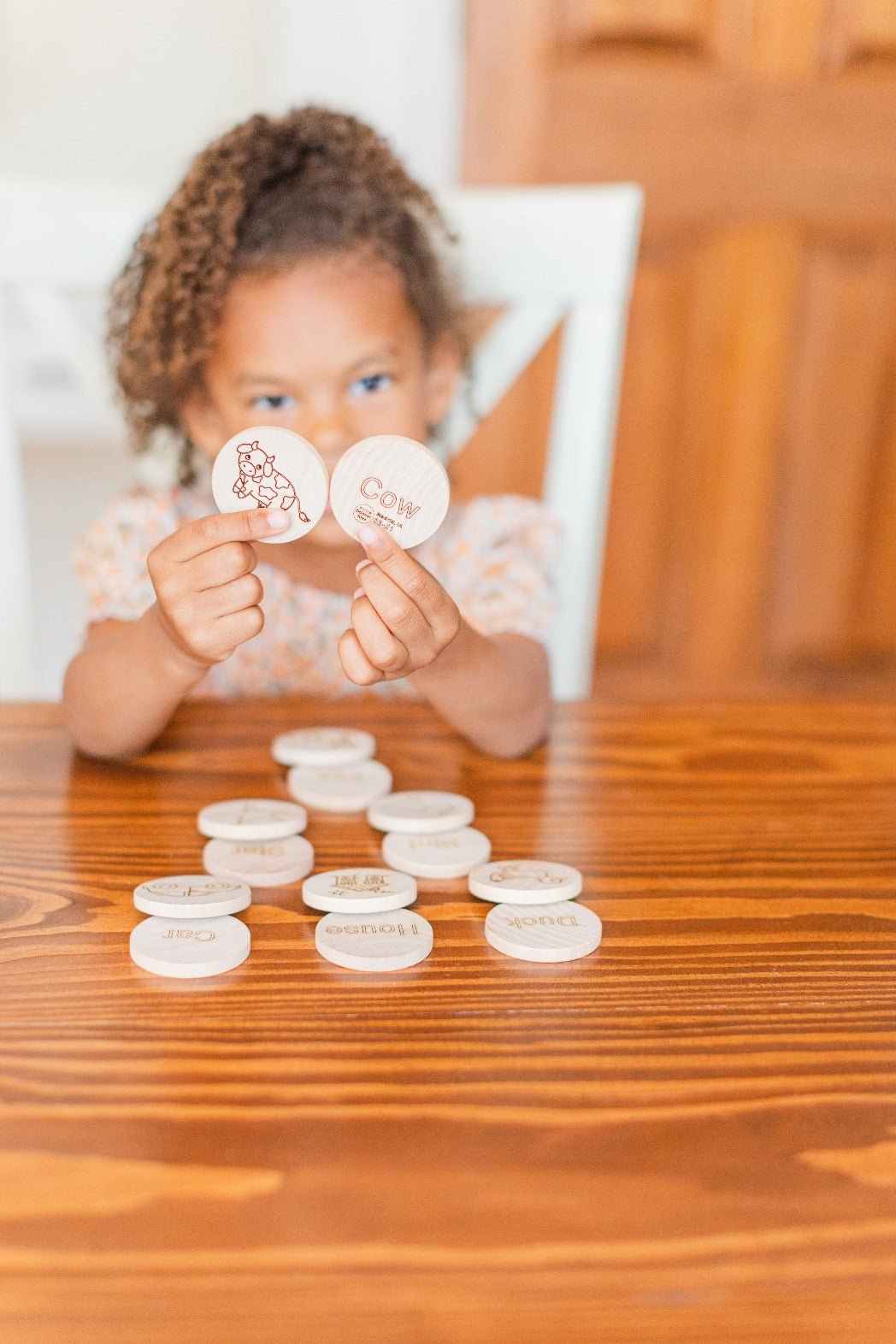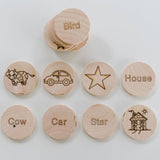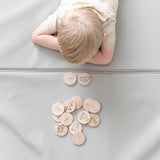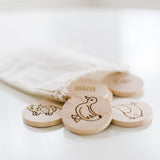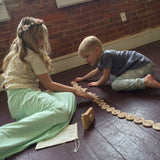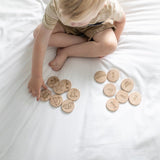 Mini Sight Words Matching Tiles
Help your little learn to read words! Memory matching tiles are a timeless classic that never goes out of fashion! It can be enjoyed solo or with the entire family - teaching kids to take turns and share with others.  Our wooden matching tiles will also promote short term memory skills.  This set features 7 sight words and corresponding pictures on 14 wooden tiles. (Please note this game is smaller than our full sized matching games.) Tiles include a Cow, Car, Duck, Bird, Fox, House and Star.  Help your child match the word with the picture and encourage not only spelling but also sight words.  Great for toddlers through early elementary school age.
Our matching tiles come in a cotton drawstring bag for easy portability and storage.
Each wooden tile is made out of solid hardwood measuring 2" by 2" and left unfinished. Safe for all ages, this set is developmentally appropriate for ages three and up.
Bannor Toys has been handcrafting heirloom quality modern wood toys in the heart of Iowa since 2011.  Each item is created with the intention of letting imagination and creativity thrive in children.
---
Free USA shipping on orders over $50
FAQ

Where are your Wood Toys Made? 

All of our wooden toys are 100% made here in the United States. Our workshop is in our hometown of Madrid, Iowa. All of our lumber is sourced from Iowa and the Midwest. The few parts that we do not make ourselves such as wood rings are made by companies in Texas, Illinois, Ohio, and Maine. 

How will my personalization be formatted?   

Personalization size and format will be dependent on the information you want engraved and can be different from what is pictured on the website. We fit it on the toy the best possible way so it is uniform.  Unfortunately, because each toy is different depending on how long the personalization is, we are not able to send a proof. 

Where is your Silicone Manufactured? 

We use a 100% food-grade silicone that is manufactured in China and 3rd party safety tested here in the USA along with all of our wood toys.  There are no fillers or additives in our silicone.  We've used the same 2 small manufactures in China since we introduced silicone parts to our toys, they are small factories that we talk to often!  The silicone is: Lead Free, BPA Free, Cadmium Free, Mercury Free, Phthalate Free, FDA approved, CCPSA approved, LFGB approved, SGS approved, CPSIA compliant, have ASTM International Certification and CE Certification.

Are your Toys Really Natural?

Yes, our wood is natural. We do not stain it. We use Maple, Cherry, Beech and Walnut woods and their natural colors. Our finish is a 100% organic beeswax and flaxseed oil mixture that is all natural and nontoxic so it is the perfect finish for baby's mouth. The oil brings out the color and the beeswax provides durability. Our paint is a water based, organic paint from a company in the United States. They are 100% safe, lead free, no VOC's, non-toxic and approved for use in children's toys. The glue we use is non-toxic too. Our grasping toys are left "naked", there is no finish on them. 
Shipping

Fast shipping

We use USPS to ship most all orders. Occasionally we will use UPS Ground if it makes sense for a particular order. Orders are typically processed in 1-3 business days and handed off to USPS for delivery to you.

You will be able to track your order via the shipping confirmation email that gets sent to you when the order is processed. Check your spam, sometimes it goes there!

Please make sure to double check your shipping address and personalization before checking out as we are not able to make changes after an order is placed.

Shipping Protection

Bannor Toys is not responsible for your package once it is in the shipping carrier's hands, therefore we have partnered with Navidium to ensure that you can get 100% coverage on your order for a minimal fee (starting at just $0.98)! Navidium will help you file a claim and cover your packages. Should you deselect Navidium coverage we are not responsible for your package should it get lost or damaged in shipping. 

If your package arrives damaged you have 2 weeks to notify us and Navidium for a claim to be started and it to be covered.   

If your package is showing as delivered by the carrier and you do not have it, neither Bannor Toys or Navidium are held responsible for it being lost and cannot offer a replacement or a refund.

Get in touch

Should there be something wrong with your order, please reach out to us asap so can work to get it resolved! You can reply to your order confirmation email or send us a message at hello@bannortoys.com.
Mini Sight Words Matching Tiles
Great for learning
We got these for our 3.5 year old. She's not quite to the reading stage, but we spell out the word she is looking for and she loves to try to find it. The images are also really cute.
Never too early
I recently bought the Mini Sight words for my 3.5yr old daughter. She is still a little too young to use the sight tiles as they are intended but its never too early to have fun with her learning. So instead i have her pick a word tile and then i spell it out for her and point to each letter and then say the word and she has to go and find the corresponding picture tile.
perfect, fun, educational all wrapped in one little game. i got these for a gift for a friend of mine's 3 year old daughter. She loved them. now i need a set for my kids! great for little hands and little minds learning new words and objects.
My kids love it
I feel like everything my kids love everythjng from here. From the silicone blocks to the toy phone, and much more. The silicone blocks are awesome for teething baby's and bath. They are super easy to clean too. We also have a grasping toy/teether that my 5 month old loves.
Great Add-On
I love this as an add-on to the other Sight Words Matching game. There are no duplicated words/images, so you can end up with a bigger set by combining the two.