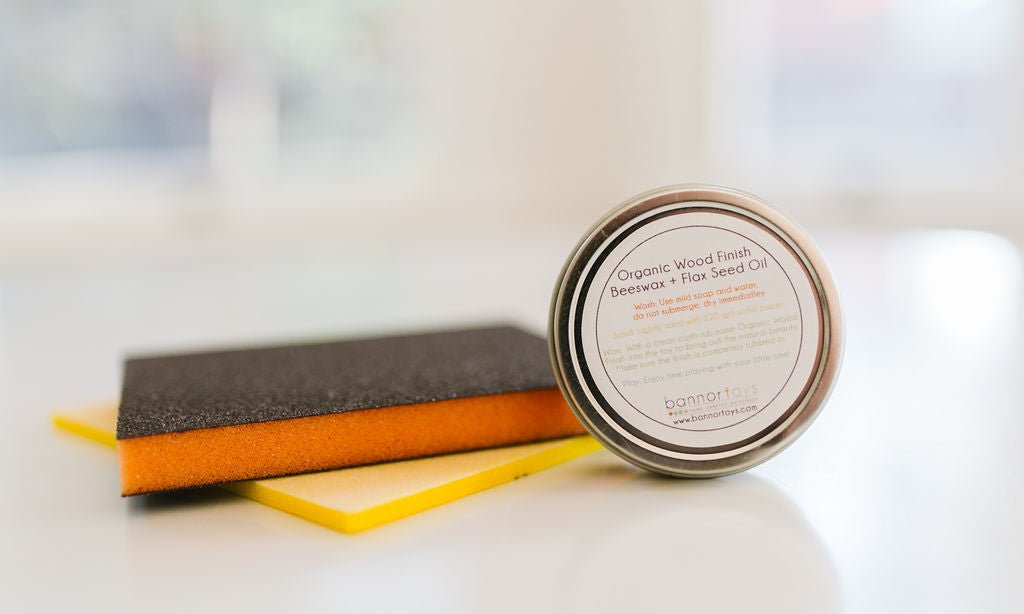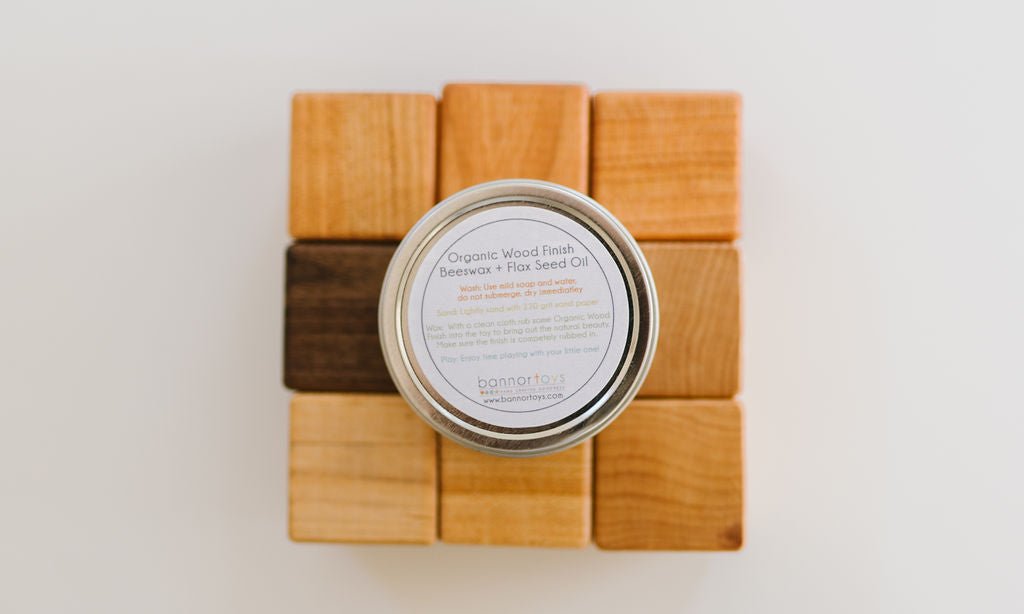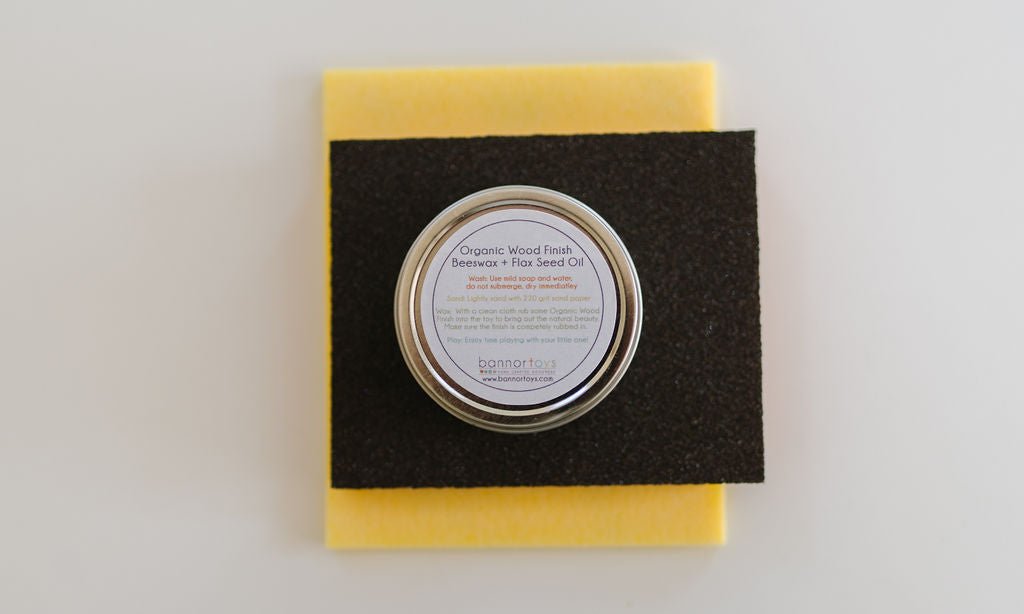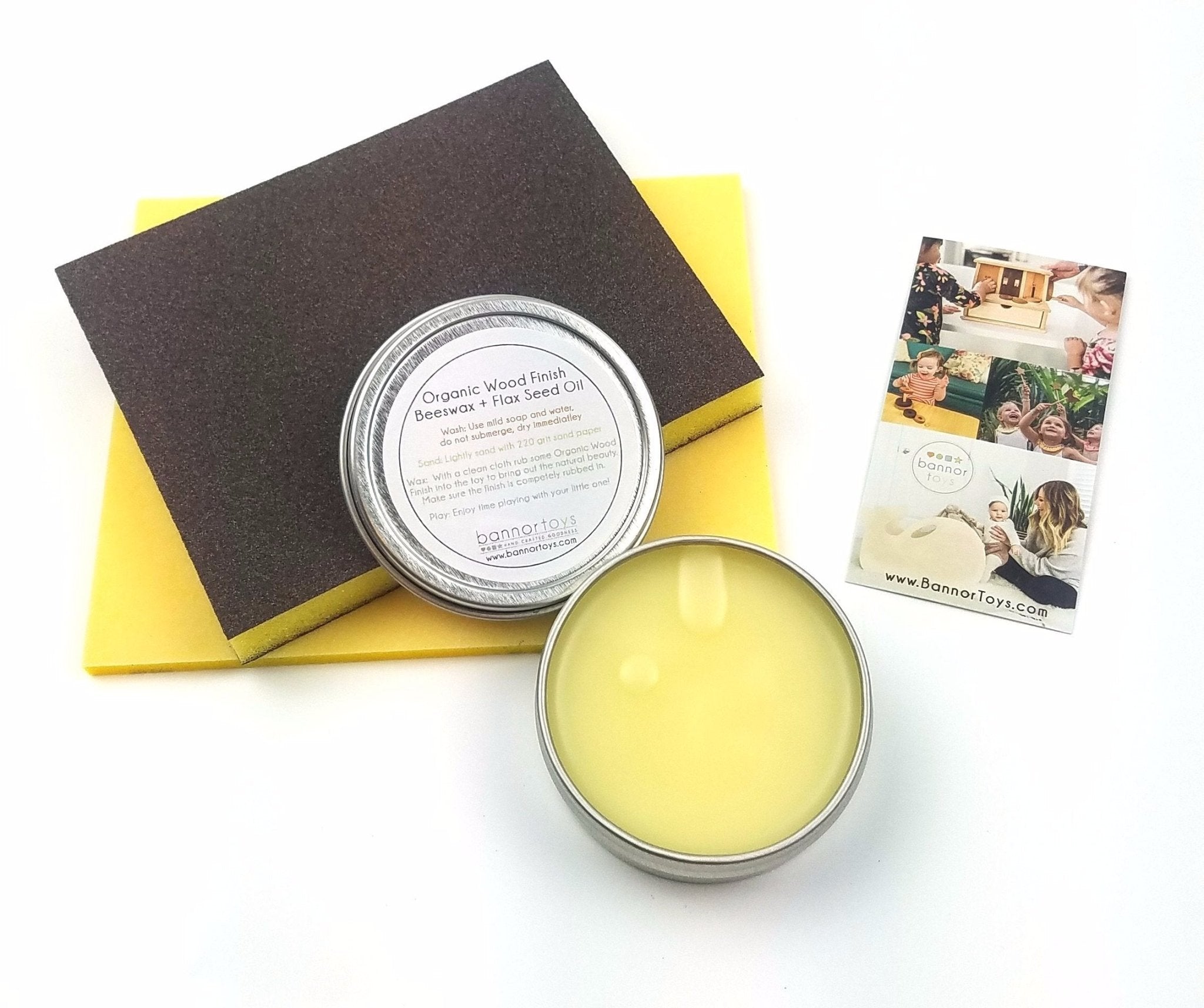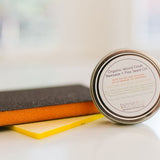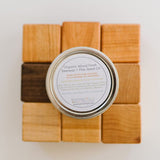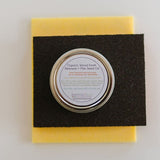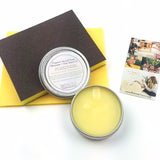 Need to freshen up your Bannor Toys?  Look no further!  This care kit contains 2 different sanding sponges and a 2oz tin of our organic beeswax + Flax seed oil mixture.  Easy to use with instructions printed right on the lid and 100% organic!
Bannor Toys has been handcrafting heirloom quality modern wood toys in the heart of Iowa since 2011.  Each toy is created with the intention of letting imagination and creativity thrive in children.
---
Free USA shipping on orders over $50
FAQ

Where are your Wood Toys Made? 

All of our wooden toys are 100% made here in the United States. Our workshop is in our hometown of Madrid, Iowa. All of our lumber is sourced from Iowa and the Midwest. The few parts that we do not make ourselves such as wood rings are made by companies in Texas, Illinois, Ohio, and Maine. 

How will my personalization be formatted?   

Personalization size and format will be dependent on the information you want engraved and can be different from what is pictured on the website. We fit it on the toy the best possible way so it is uniform.  Unfortunately, because each toy is different depending on how long the personalization is, we are not able to send a proof. 

Where is your Silicone Manufactured? 

We use a 100% food-grade silicone that is manufactured in China and 3rd party safety tested here in the USA along with all of our wood toys.  There are no fillers or additives in our silicone.  We've used the same 2 small manufactures in China since we introduced silicone parts to our toys, they are small factories that we talk to often!  The silicone is: Lead Free, BPA Free, Cadmium Free, Mercury Free, Phthalate Free, FDA approved, CCPSA approved, LFGB approved, SGS approved, CPSIA compliant, have ASTM International Certification and CE Certification.

Are your Toys Really Natural?

Yes, our wood is natural. We do not stain it. We use Maple, Cherry, Beech and Walnut woods and their natural colors. Our finish is a 100% organic beeswax and flaxseed oil mixture that is all natural and nontoxic so it is the perfect finish for baby's mouth. The oil brings out the color and the beeswax provides durability. Our paint is a water based, organic paint from a company in the United States. They are 100% safe, lead free, no VOC's, non-toxic and approved for use in children's toys. The glue we use is non-toxic too. Our grasping toys are left "naked", there is no finish on them. 
Shipping

Fast shipping

We use USPS to ship most all orders. Occasionally we will use UPS Ground if it makes sense for a particular order. Orders are typically processed in 1-3 business days and handed off to USPS for delivery to you.

You will be able to track your order via the shipping confirmation email that gets sent to you when the order is processed. Check your spam, sometimes it goes there!

Please make sure to double check your shipping address and personalization before checking out as we are not able to make changes after an order is placed.

Shipping Protection

Bannor Toys is not responsible for your package once it is in the shipping carrier's hands, therefore we have partnered with Navidium to ensure that you can get 100% coverage on your order for a minimal fee (starting at just $0.98)! Navidium will help you file a claim and cover your packages. Should you deselect Navidium coverage we are not responsible for your package should it get lost or damaged in shipping. 

If your package arrives damaged you have 2 weeks to notify us and Navidium for a claim to be started and it to be covered.   

If your package is showing as delivered by the carrier and you do not have it, neither Bannor Toys or Navidium are held responsible for it being lost and cannot offer a replacement or a refund.

Get in touch

Should there be something wrong with your order, please reach out to us asap so can work to get it resolved! You can reply to your order confirmation email or send us a message at hello@bannortoys.com.
Finish kit
Must have! Love their natural wax and can touch up those well loved toys!
So needed!
We needed this for one of the toys, and it's really high-quality stuff! Great to have on hand when needed!
Essential
This kit is essential for fixing up the little scrapes and scratches from rough play. We even used it to restore some old wooden toys we found in my parents' attic. Great purchase!
Great idea!
I am so thankful for a company that cares about their products enough to create a kit to help them last even longer! They truly care about their products and craftsmanship of it. This kit includes EVERYTHINF needed to maintain or fix your toys.
Keep Toys Looking Great
I love that Bannor sells this kit to keep all of our wooden toys looking new forever! I also love that the sandpaper are soft and thick like sponges-it makes them so much easier to use.
Great for all wooden toys
This is a really useful set to have on hand. I've used it on several wooden toys that got chomped by the dog and it always leaves things looking good as new. Lasts a looooong time, too!