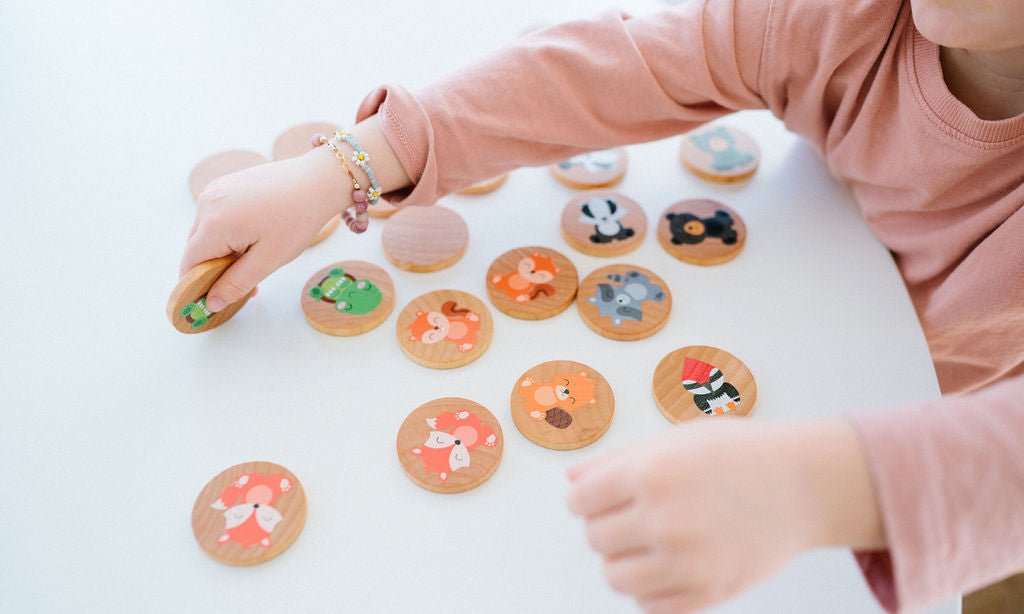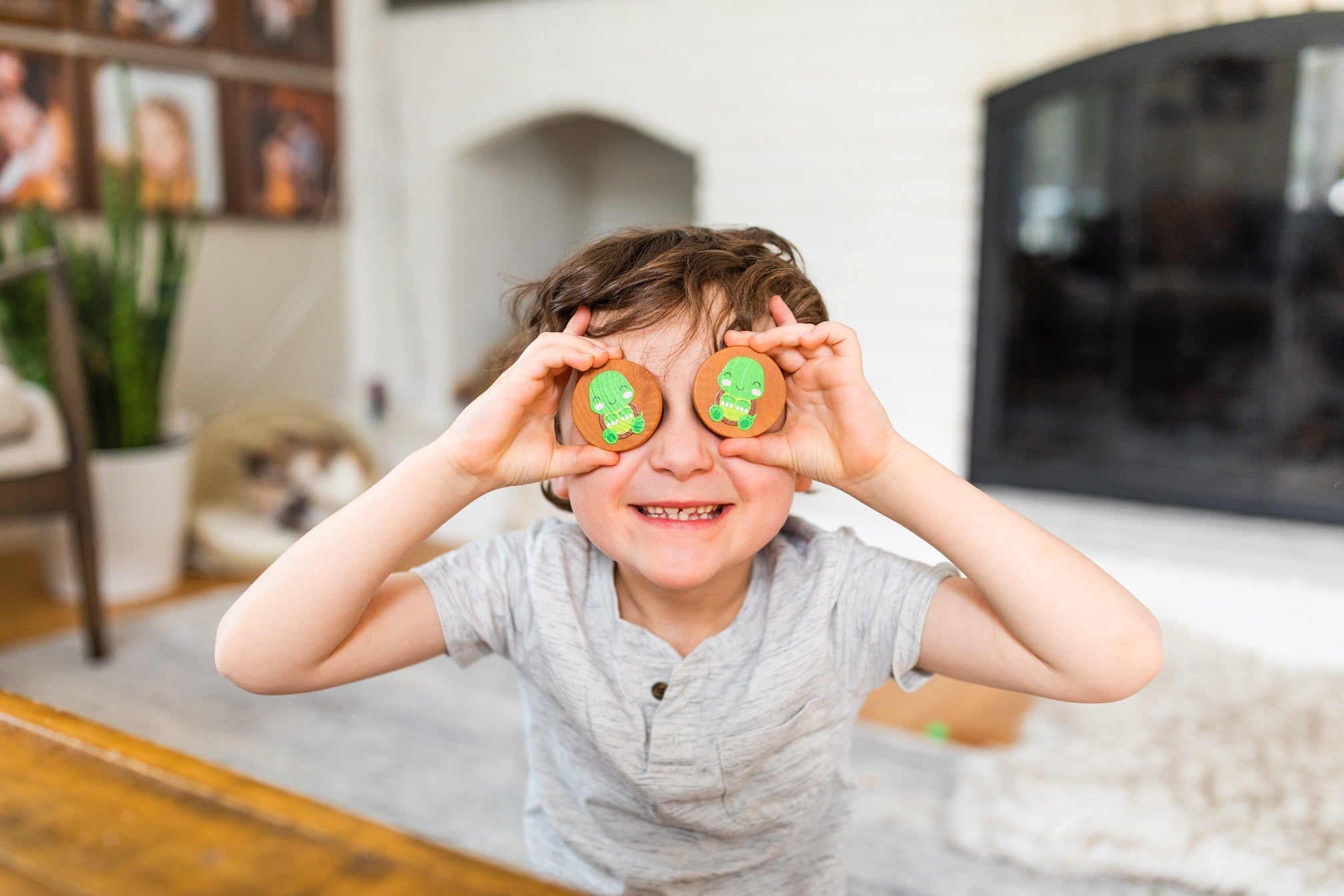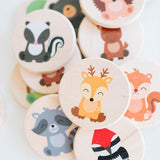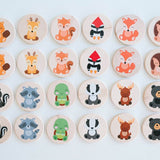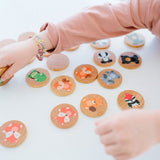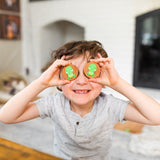 Let's go for a walk in the woods!!  This matching set consists of some adorable woodland creatures! It can be enjoyed solo or with the entire family - teaching kids to take turns and share with others.  Our wooden matching tiles will also promote short term memory skills.  This set features 12 pictures of easily recognizable woodland animals on 24 wooden tiles. Tiles include a fox, moose, beaver, squirrel, raccoon, woodpecker, turtle, deer, hedgehog, badger, skunk and bear. 
Our matching tiles come in a cotton drawstring bag for easy portability and storage.
Tiles are hardwood, 2x2" and left unfinished.  
Safe for all ages, this toy is developmentally appropriate for ages three and up. 
Bannor Toys has been handcrafting heirloom quality modern wood toys in the heart of Iowa since 2011.  Each item is created with the intention of letting imagination and creativity thrive in children.
---
Free USA shipping on orders over $50
FAQ

Where are your Wood Toys Made? 

All of our wooden toys are 100% made here in the United States. Our workshop is in our hometown of Madrid, Iowa. All of our lumber is sourced from Iowa and the Midwest. The few parts that we do not make ourselves such as wood rings are made by companies in Texas, Illinois, Ohio, and Maine. 

How will my personalization be formatted?   

Personalization size and format will be dependent on the information you want engraved and can be different from what is pictured on the website. We fit it on the toy the best possible way so it is uniform.  Unfortunately, because each toy is different depending on how long the personalization is, we are not able to send a proof. 

Where is your Silicone Manufactured? 

We use a 100% food-grade silicone that is manufactured in China and 3rd party safety tested here in the USA along with all of our wood toys.  There are no fillers or additives in our silicone.  We've used the same 2 small manufactures in China since we introduced silicone parts to our toys, they are small factories that we talk to often!  The silicone is: Lead Free, BPA Free, Cadmium Free, Mercury Free, Phthalate Free, FDA approved, CCPSA approved, LFGB approved, SGS approved, CPSIA compliant, have ASTM International Certification and CE Certification.

Are your Toys Really Natural?

Yes, our wood is natural. We do not stain it. We use Maple, Cherry, Beech and Walnut woods and their natural colors. Our finish is a 100% organic beeswax and flaxseed oil mixture that is all natural and nontoxic so it is the perfect finish for baby's mouth. The oil brings out the color and the beeswax provides durability. Our paint is a water based, organic paint from a company in the United States. They are 100% safe, lead free, no VOC's, non-toxic and approved for use in children's toys. The glue we use is non-toxic too. Our grasping toys are left "naked", there is no finish on them. 
Shipping

Fast shipping

We use USPS to ship most all orders. Occasionally we will use UPS Ground if it makes sense for a particular order. Orders are typically processed in 1-3 business days and handed off to USPS for delivery to you.

You will be able to track your order via the shipping confirmation email that gets sent to you when the order is processed. Check your spam, sometimes it goes there!

Please make sure to double check your shipping address and personalization before checking out as we are not able to make changes after an order is placed.

Shipping Protection

Bannor Toys is not responsible for your package once it is in the shipping carrier's hands, therefore we have partnered with Navidium to ensure that you can get 100% coverage on your order for a minimal fee (starting at just $0.98)! Navidium will help you file a claim and cover your packages. Should you deselect Navidium coverage we are not responsible for your package should it get lost or damaged in shipping. 

If your package arrives damaged you have 2 weeks to notify us and Navidium for a claim to be started and it to be covered.   

If your package is showing as delivered by the carrier and you do not have it, neither Bannor Toys or Navidium are held responsible for it being lost and cannot offer a replacement or a refund.

Get in touch

Should there be something wrong with your order, please reach out to us asap so can work to get it resolved! You can reply to your order confirmation email or send us a message at hello@bannortoys.com.
Great baby gifts!
Bannor Toys are my "go to" for baby gifts. I love that they are made in Iowa, are great quality, and most can be personalized. Love the new wooden matching discs and scavenger hunt discs. Great ideas!
Matching games
The matching game tokens are so cute! I love the light wooden circles and the fun colors and pictures on them! They are a Christmas gift for my grandchildren, I know they will love them!
I LOVE Bannor Toys!
I became aware of Bannor Toys when they were on Fox and Friends Weekend when my newest grandson was a few months old. I LOVED that this is an American company. The quality of everything that I've bought since is exceptional. I've bought teethers, push toys, the cash register ( for future use) and several matching tiles. I'm ordering another set of tiles today.
My grandson is 19 months old now. He's learning "same same" and lots of other games that we play with the tiles. I can say "can you find a barn?" He finds it and doesn't have to be prompted to find the other one. Other times he finds a tile and knows to find the other one. Of course being a boy, some days he wants to just shake shake shake the bag and have them go everywhere! One day we can play memory with them but that day is a few years away.
So thank you Bannor Toys !
So adorable!
I bought these for my 22mo. She loves animals and can't get enough animal-everything. These designs are so adorable! These are the friendliest little animals that ever were. The print is vibrant and detailed. I She's not old enough for the matching aspect of the game yet, but she loves naming them and carrying around a basketful of "friends."
These matching tiles are beautiful. They are the perfect size for little hands and are very sturdy.